Access Tech & Business Courses Free of Cost for Two Months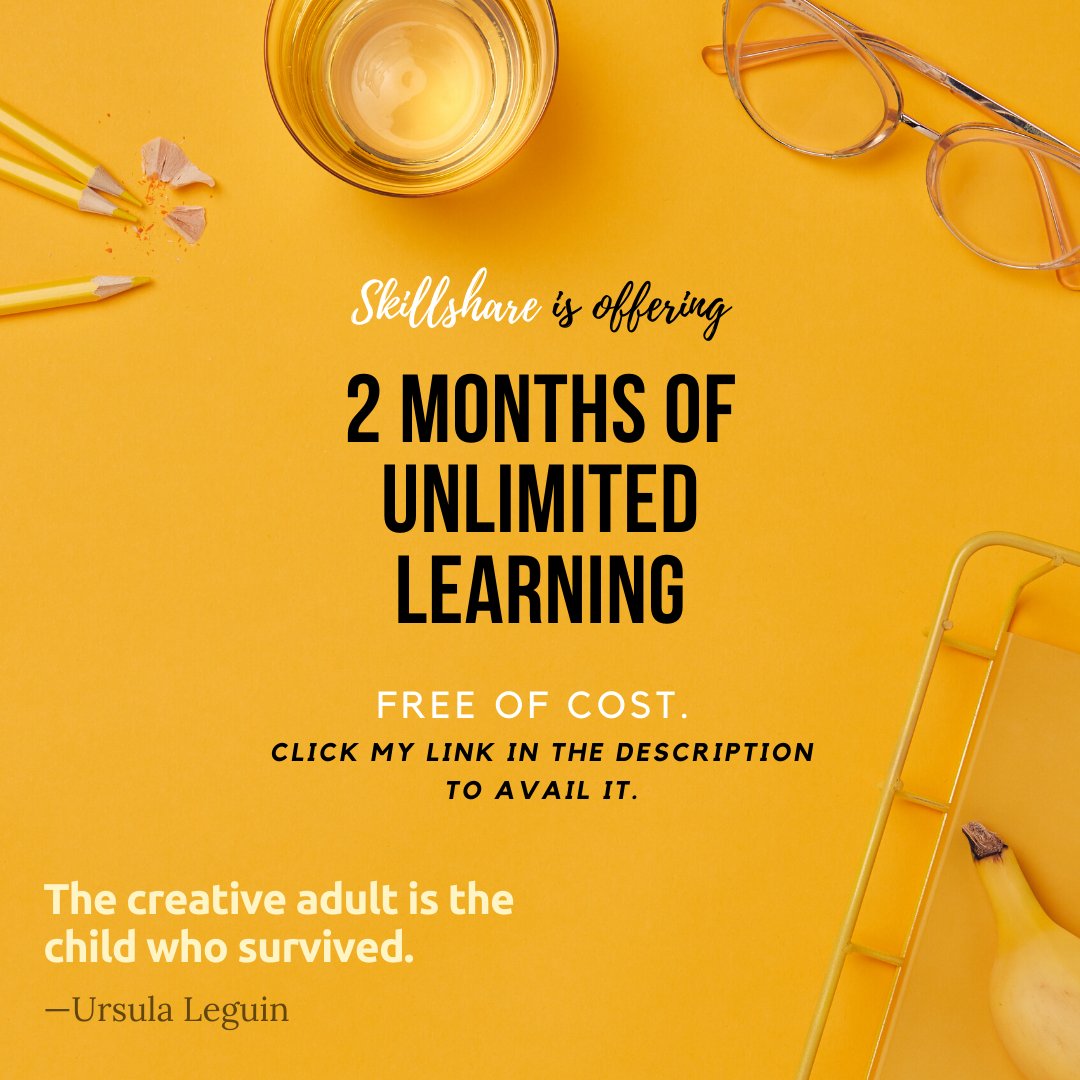 SkillShare is an Online Learning platform that offers structured byte-sized video courses on various topics including technology. It is a subscription-based model where user can pay a fixed cost per month (currently $8.95 USD) and access any or all of the thousands of courses available with them.
For a limited time, Skillshare is offering two-months of free unlimited access to all its courses if you click and signup through this link – https://www.skillshare.com/join?studentRef=811995679&via=student-referral&utm_campaign=student-referral-settings&utm_source=ShortUrl&utm_medium=student-referral-general
Note: This is an affiliate link and I may get a few more extra days of free access if you click and signup through it. Also, you need to enter your credit card info while signing up and a reversible transaction of $1 USD will be made to check the card. You can cancel your subscription anytime, including within the two-month free period so that you are not billed.
I spend more than 50% of my time every day learning or researching to better my skills and learn new stuff. If you want to have an edge over your colleagues or competitors you ought to keep learning and keep specializing in your chosen field.
That's where online tutoring marketplaces like Skillshare can help. There are other options like LinkedIn Learning and Udemy. While the former has good courses, the subscription cost is very high. The latter has all kinds of courses but it's difficult to identify good ones from bad ones. Udemy doesn't have a subscription model but they sell individual courses. The advantage is, you can refer back to these courses anytime.
Since I have experienced all three platforms, I feel Skillshare gives me the maximum value for money, especially because I keep learning on a daily basis. Courses here are curated and are mostly short. They have also built an extensive library of original courses from popular instructors.
You can search for any topic in the search bar and you'll mostly be able to find it. If not, you'll find a course on a related topic.
When I searched for technology, I found courses on topics like Wearable Technology, blockchain, Kubernetes, Encryption, Cryptocurrency, WiFi, Bitcoin, HTML/CSS, Javascript, Artificial Intelligence, Machine Learning, Product Design, WordPress, etc.
You'll find Business Courses on topics including Personal Branding, Social Media Strategy, Influencer Marketing, SEO, Video Marketing, Public Speaking, Communication & Body Skills, Entrepreneurship, Online Business, Freelancing, Creative Business, MS Excel, Data Analytics, MS Power BI, Visual Thinking, Google Analytics, etc.
Here is the signup link for the two-months of free unlimited access to all courses on SkillShare – https://www.skillshare.com/join?studentRef=811995679&via=student-referral&utm_campaign=student-referral-settings&utm_source=ShortUrl&utm_medium=student-referral-general (Do signup quickly as we're not sure until when this offer will be available.)